Not for the first time this season, Jose Mourinho flew out of the corner. After the winning goal of Marouane Fellaini in the final minutes, in an extremely difficult encounter with Young Boys (1-0), the Portuguese grabbed a crate of water bottles to throw them down again without mercy. It fits flawlessly in the series of previous unwanted incidents this year. 
---
Manchester United boss Jose Mourinho later called the action in a press conference 'an explosion of relief'.
"I think that many supporters have celebrated the goal in many ways at home. I can imagine that in some living rooms the TV has been smashed,"  Mourinho said.
But that was not the first time Jose came out of the box with all guns blazing. We've looked back at five previous fiery reactions the Portuguese has held to see.
Also Read: Jose Mourinho's at it again! United Manager continues with his controversial statements
The hand gesture against Juventus
The Champions League was previously the scene of 'The Special One' to cause upheaval. After the duel that his Manchester United narrowly won against Juventus (1-2), he provoked the Italian public by holding a hand behind his ear. Mourinho said that it was a reaction to the Juve audience.
"If you understand Italian, you know that I was insulted for ninety minutes. That's why I reacted like that. I should not have done it better and with a calm head I would not have done it either, but I felt deeply hurt by all those insults at the address of me and my family. By the way, I did not offend anyone, but only made a gesture to tell the fans that I wanted to hear them louder."
Quarrel with the assistant of Chelsea
As if bitten by a snake, that was how Jose Mourinho reacted when Marco Ianni, one of the assistants of Maurizio Sarri at Chelsea, provoked him.
The Portuguese lost his self-control after the equalizer in the game against Chelsea (2-2) in the sixth minute of the injury time. Ianni walked by, said something, where Mourinho reacted fiercely and wanted to fist. Mourinho could just be kept in check and then needed some time to settle down.
"The assistant of Sarri was very rude and I responded to that. Sarri immediately intervened. That assistant has also apologized. For me, this issue has now been resolved," Mourinho said.
 Later, Ianni was fined, Jose Mourinho was not punished!
Schelden and little finger against Newcastle
In the game against Newcastle United, where Manchester United trailed a 0-2 backlog to a victory (3-2), Mourinho let himself go. Cursing and roaring he walked to a cameraman and he would have called him 'fodas filhos de puta' ('whore children').
He also made a gesture with his little finger, which is interpreted as obscene in southern European countries. He said, "What's with my little finger?" In the end, FA declared that the swearing was not proven and the 'pinky gesture' was also no reason for a punishment.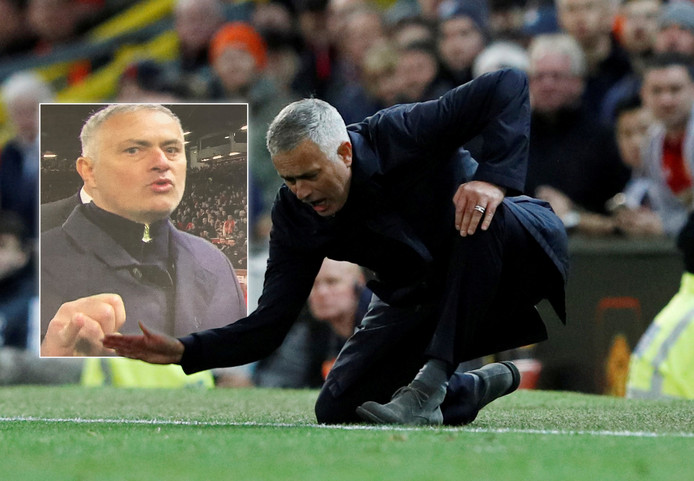 Mourinho and his star player Paul Pogba are not friends. When Pogba entered the training field in a trot at the end of September and gave some hands, he suddenly looked at his Portuguese coach with a fierce look.
What was said is not known, but it was clear that the French midfielder, who in 2016 for 105 million euros was attracted by United, was totally not happy. Not once, not twice, but several times Pogba Mourinho looked as if he was face to face with public enemy number one.
Respect, respect, respect!
After the third round of Premier League, when United lost to Spurs with 0-3, Mourinho got into trouble with the press. He quickly moved away while he kept asking for respect, just after his argument about the number of Premier League titles he won in his career.